It's no secret that the way we work has changed tremendously over the past few years. Many organizations are quickly moving towards remote environments for employees for a number of reasons. As a result, we've seen companies overlook cybersecurity for remote workers which greatly increased their risk of cyber threats. With that said, we've compiled a list of recommendations to help your organization avoid any potential risks when implementing remote environments.
Implementing Proper Cybersecurity for Remote Workers
We've developed a variety of cybersecurity options that are budget conscious and fit any size of business. Our mission is to keep your organization informed and protected. Above all, the best thing we can do is work together and not allow cybercriminals to take advantage of stress and urgency. If you've made changes to normal business activities, ask yourself the following questions and discover what you can do to lower your risk.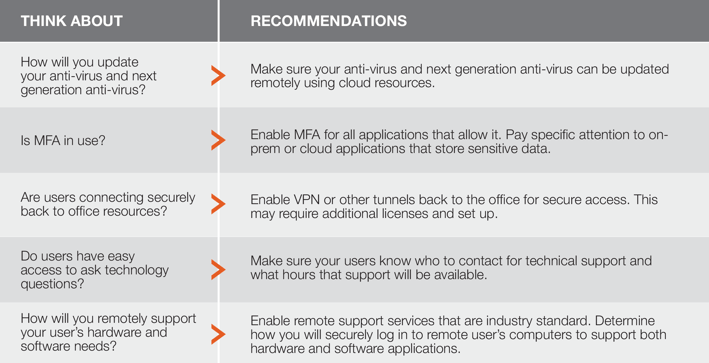 Full Remote Work Checklist | PDF
Need Additional Help?
To learn more about the options we have to help reduce your risk, please contact us today.